Art exhibition: Ocean – "Fear and beauty"
Banque Havilland is sponsoring a special evening at the exhibition "Ocean – fear and beauty" which brings together two artists from very different backgrounds but with a shared passion.
Simon Lean and Jean-Marie Ghislain have collaborated to create an exhibition of their work with which they want to confront their audience about their fears of the ocean. Fears which are often unfounded and can disguise its true beauty and fragility.
The origins of this collaboration began when Simon met Jean-Marie in Luxembourg last year, and agreed to join him on one of his expeditions to photograph sharks in the Bahamas, thus confronting his own fears about the ocean. The trip inspired this beautiful collection of artworks.
The collection of paintings, sculptures and photographs are being exhibited at the Sofronis Arts gallery in the Grund, 12, rue Munster L-2160 Luxembourg from 2nd – 23rd March 2017 (Viewings from Friday – Sunday 2-6pm).
Jean–Marie Ghislain – Photographer
Born in Charleroi, Belgium, Jean–Marie came to photography in a natural way, always passionate about light and how each object, every person, reflects or absorbs it. He studied Photography at the Saint Luc Institute in Liège. It was not until 2009 that Jean-Marie finally put his photographic sensitivity to a cause: The defense of the oceans and its inhabitants when he finally decided to confront his historical fear of water and sharks. Against all expectations, he switched to a real fascination for these animals, which changed his life irreversibly. Jean-Marie has exhibited around the world and has made television documentaries about sharks, the ocean and inter-species communication.
Simon Lean – Painter & Sculptor
A British artist living in Luxembourg. Born in 1973 in Chichester, UK, he studied Scientific Illustration at Middlesex University. Over the last 20 years Simon has worked with a variety of artistic and creative media from classical painting and drawing to sculpture, special effects, antique restoration and graphic design. This is his second exhibition in Luxembourg and the first with the Sofronis Arts gallery. Simon comes from a family with a rich artistic heritage– his great uncle was the world-renowned film director David Lean, his grandfather was an author, a contemporary of Tolkien and C.S.Lewis, and Head of BBC Foreign Service.
(source: Delano)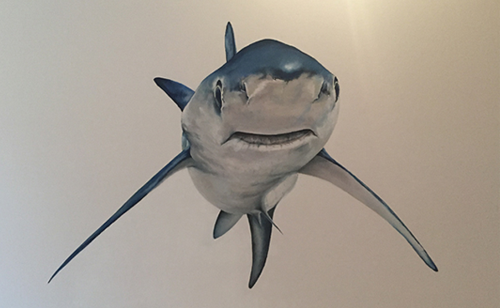 Go back