Banque Havilland Liechtenstein sponsors FC Vaduz
Banque Havilland (Liechtenstein) AG is delighted to announce its co-partnership with FC Vaduz. The recently signed sponsorship agreement has been concluded until 2023.
The club, competing in the highest football league in Switzerland,  the Swiss Super League, will carry Banque Havilland's logo in its team equipment, with additional advertising displayed behind the goals at the club's home ground, Rheinpark Stadion.
The support to FC Vaduz highlights Banque Havilland's conviction in the relevance of sports and sports values, intimately related with our own – Fairness, through Fair Play, respect for the adversary and friendship, and Diversity by being resolutely against racism and discrimination of any kind.
Marc Arand, CEO Banque Havilland Liechtenstein, added: "FC Vaduz is a great ambassador for our values and the club is strongly anchored in the region. We are therefore very pleased that we will be accompanying FC Vaduz as a co-sponsor for the next 2 ½ seasons."
Photo (from left to right):
Benjamin Büchel (First Team Captain – FC Vaduz)
Marc Arand (CEO Banque Havilland Liechtenstein AG)
Patrick Burgmeier (Executive President – FC Vaduz)
Justin Ospelt (First Team Goalkeeper – FC Vaduz)
The Press Release issued by FC Vaduz is available here  (in German).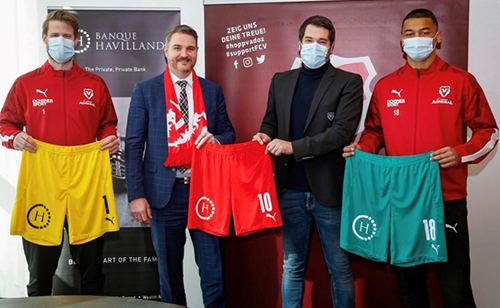 Go back