Banque Havilland shows top shape in BH-sponsored event Solirunbike
Banque Havilland sponsored this year's edition of the Solirunbike, a sports and solidarity event wich took place in Kockelsheuer, Luxembourg, 23rd May 2019.
The funds raised thourgh the event are aimed to support the actions of L'Hymne aux Enfants Foundation with disabled and poor children in Burkina Faso.
In addition to partnering with Solirunbike, two Banque Havilland teams participated in the 10km run and cycling race. Both teams showed top shape in ranking 7th and 9th in a total of 53 teams.
Banque Havilland congratulates its employees and family members who took part in this honourable initiative.
Photo (left to right):
Juho Hiltunen, Deputy CEO Banque Havilland S.A.,
Elias Hiltunen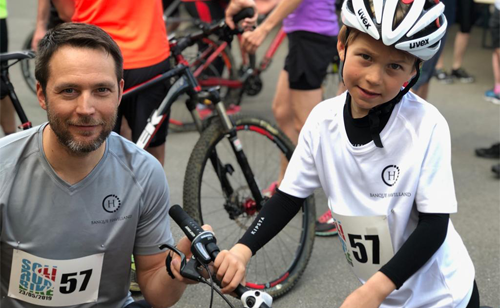 Go back