About us
Banque Havilland is part of the Havilland group and was established by an entrepreneurial British family with a successful track record across many different business sectors.
The Bank was founded in 2009 in Luxembourg where it has its head office.
Bank Havilland has been built on strong financial foundations following prudent
principles. Private ownership provides the group and its clients with stability and consistency, allowing it to take a long-term approach to the management of client wealth and generational client relationships.
Since inception, Banque Havilland has grown from its original business in Luxembourg.
The group now encompasses London and Switzerland as branches, Monaco and Liechtenstein as subsidiaries, and Dubai as a representative office.
Our Journey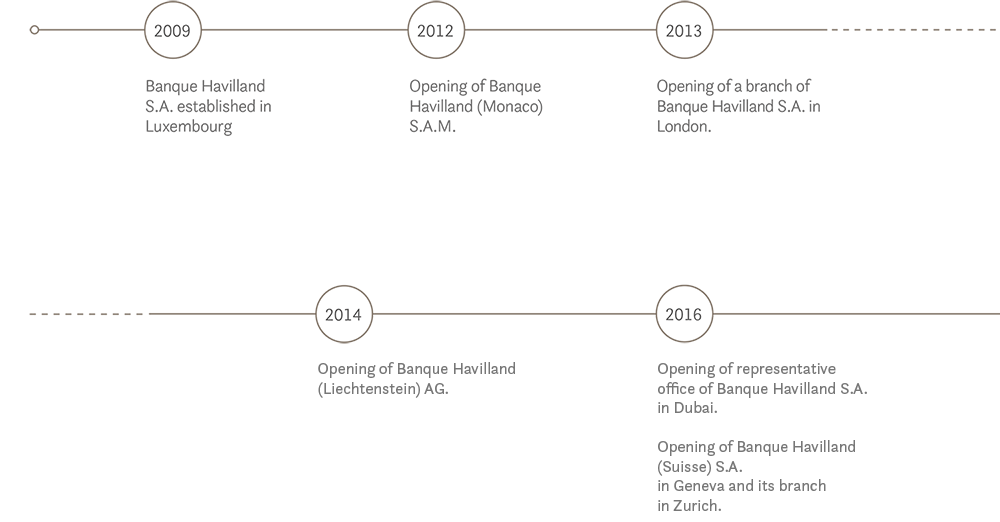 2009
Banque Havilland S.A. established in Luxembourg
2012
Opening of Banque Havilland (Monaco) S.A.M.
2013
Opening of a branch of Banque Havilland S.A. in London, UK;
2014
Opening of Banque Havilland (Liechtenstein) AG following acquistion of Banque Pasche (Liechenstein) AG;
2016
Opening of Banque Havilland S.A. Rep Office (Dubai)