An insider's look at Monaco's wealth management market
Born in the fashion capital of the world, in Milan, Italy, after 13 years spent in Luxembourg Stefano Torti relocated to the Principality in 2019 to continue his activity in Banque Havilland.
Finishing his master's studies in Economics and Finance at the Bocconi University Milan in 2006, the young Italian Stefano Torti moved to Luxembourg to establish himself in the financial industry. Stefano worked for ten years for Nordea Bank before he joined Banque Havilland in Luxembourg.
After thirteen years of working in the industry, the Banque Havilland group in Luxembourg offered Stefano the opportunity to take a management role in the Monaco entity.
Why did you decide to take the opportunity and move to Monaco?
"Monaco is a place which I've been traveling to for business for many years and I always loved it," – starts Stefano. – "Given the recent positive momentum the bank wanted to grow further its presence in Monaco, especially on the investment services side which is the main area I cover. Being Italian was also an advantage considering how large this community in the Principality is. From a personal perspective, it was also attractive as my family lives in Milan, which is only a few hours away. Basically, it was a no-brainer choice to leave cold Luxembourg for the sunny Principality."
How would you compare your home city Milan to Monaco?
"I think there are some common points. First, many "Milanesi" are living or just working with Monaco and that does not make me feel far away from home. Both in Monaco and in Milan there is an appreciation for beautiful things. Milan is the capital for fashion but also luxury, and the type of people that you see, especially in the center of Milan, are not too dissimilar to those here in Monaco.
Other than that, I think they are two very different places and obviously, the size is very different. Milan is a city that changed dramatically in the last ten years and has become a really true European city."
Why did you choose finance?
"Well, if you study finance at university for five years then obviously it is hard to become a doctor," – jokes Stefano. "I was quite interested by markets and investment from early days".
Stefano was lucky enough to get an investment role already from the start, which is an area within finance that he still loves.
"The field of investments is very interesting and the thing that I really enjoy the most in the banking world, as it is always very dynamic."
As an authorized manager of Banque Havilland, Stefano is responsible for heading the investment platform for the group and his role goes with all its regulatory side as well. His main field of expertise when it comes to investments includes strategic asset allocation, tactical ideas, and the selection of the right instrument.
What would a tactical investment strategy be for 2023?
"2023 it is looking one of the most interesting year in a long time when looking at markets, as the valuation dispersion between different assets, sectors and regions is rather high. Certainly, some area of fixed income, which used to be non-investable for years are finally attractive. Technology has also been a space with dramatic movements and, although as aggregate still not cheap enough, some sub-sectors are very compelling".
How has the investment market changed over the years? Are there evolving opportunities?
"The investment world is always in constant change. In my opinion in the last years, especially since 2008, investors were obliged to spend an ever-larger amount of time analyzing central banks, politics and macro, as we tended to go from crisis to crisis. The best opportunities are nowadays arising from all those moments where, due to the macro environment, market prices disconnect from fundamentals, and fundamentals are what matter in the long term."
Do you believe in passive investments?
"For many people, passive investment equals the easy way. However, it can be a highly volatile road. Just having an equity bond-portfolio and letting it sleep is not the right way to invest, as 2022 shows us.
I think you need to have a more sophisticated allocation and a strategy to protect and grow your assets without too much sensitivity to politics, the macro, and all the crazy things that are happening in the world."
Do Monaco residents take risks when they create their investment portfolios?
"I think the general principle and commonality among private clients is that they are loss adverse more than risk adverse. Some residents are just interested to have basic accounts just to keep liquidity and to be able to not worry about investing.
The majority though have much more complex wealth structuring needs, where asset allocation is key.
Also, my favorite type of residents and clients are the ones who are truly passionate about investing in financial markets and who are observing the market with curiosity for ideas and strategies."
Would you recommend investing in non-traditional things such as art, bitcoin, wine, or whiskey?
"I think for some people there might be a space to allocate a small part of a diversified portfolio in non-listed assets and some of them can be so-called passion investments. But I would keep it separately from the banking relationship."
Why is that?
"To answer your question, when it comes to passion investments, I think you always need to remember the first rule which is it needs to be your passion because if it doesn't work financially, at least you can still enjoy what you have purchased. If it is whiskey or wine, you can still drink it, if it is a piece of art, you can still enjoy looking at it even if is worth zero. So, I think it's a very personal world and you really need to have a good knowledge of what you're doing at and accept its risks because liquidity and especially transparency with these assets is very limited.
It needs to be a passion and I think as an asset class it can have a small role in a well-diversified portfolio, but it is not an area where we are in a position to give any advice"
The work that Stefano enjoys the most is building up a strong investment strategy that delivers tangible results for his clients. He loves to involve his clients by offering them monthly meetings to create full transparency.
"Clients sometimes are less interested in the day-to-day management of the portfolio. They are not really in the financial world and they give us full discretionary power. However, we have others on the contrary, who want to be involved, but still, want us to guide them through what we think is best for them before they have the final word on the investment decision."
The reason for such a "familiar relationship" lies in the nature of the business. When it comes to institutional clients you speak about risk aversion. When you move to private clients, you speak about loss aversion. Clients don't want to lose money. That's rule number one.
"What is really key for private clients is not to lose money when times are difficult because most of the time they tend to be more conservative. And that's the commonality that you see in many relationships. You need to have the right mindset and attitude for this."
The Principality of Monaco has close to 100 players among banks, wealth managers, and authorized financial advisors. How would you differentiate Banque Havilland from its competition?
"We always make the similarity with the hotel business," – jokes Stefano.
How come?
"You can choose to go to either the big hotel chains where you are a customer among millions, or to a boutique hotel where if you go regularly, they will remember your name, preferences, needs and you will have a special relationship with the people working there. And that's exactly what we try to achieve in Banque Havilland.
We truly try to be a boutique bank with a personal and tailor-made approach. We are a people's business which makes the difference in making sure that our impact is consistent and positive for each of our clients."
Stefano does not have a traditional 8 hours a day job, since he is always available for his clients also outside office hours.
What was the biggest challenge in your career?
"Probably learning to deal with the clients' emotions when investing, what is so-called behavioral finance."
Behavioral finance asserts that rather than being rational and calculating, people often make financial decisions based on emotions and cognitive biases. For instance, investors often hold losing positions rather than feeling the pain associated with taking a loss.
"I had to learn that in clients' investment decisions, emotions play a larger role than most people think, and mitigating the biases that can arise is a key. Understanding each client financial objectives, knowledge and above all risk and loss aversion levels is the starting point of successful investing. For private clients the result is usually portfolio who tend to have a more "convex" profile, where downside protection is prioritized."
What happens when things do not go according to the plan?
"Everybody is happy and relaxed when markets are good. However, when things get more volatile, you can see that people can react differently and they can also take bad decisions at the worst time. As said I think the whole emotional part around investing is key for us in private banking."
Monaco has had a big inflow of the young generation in the last few years, many of them are technopreneurs. Is Banque Havilland open for them as clients?
"Of course we are. If in the past it was assumed that for new generations technology was a differentiator, nowadays we probably reached a point where technology is just a starting point: every bank needs to have a basic minimum level of digitalization, but the value added is content and relationship. Content is what you deliver with the digital and physical platform, meaning in my area the right investment solutions and advices. Relationship is how you service your client, the reactivity and above all the reliability."
What makes Monaco special in terms of private banking?
"I think the one big advantage compared to other private banking centers in the world is that the majority of the clients are living here in Monaco. This means that you really can have a closer relationship because you can actually meet physically very easily and thus build a strong, long-term connection with your clients.
If you take into account banking markets like Switzerland or even Luxembourg, you have a lot bigger markets in terms of size but many of the clients do not live there or are institutional. They might go to meet their bankers only a few time a year therefore, it's more difficult to build this type of relationship."
Was it easy for you to integrate into the local community?
"I find Monaco very socially active where people are very welcoming. I had many friends in Luxembourg, obviously, but when I came here in 2019, I didn't know many people. However, in the end, it was extremely easy to make new friends."
Do you have a favorite place in Monaco?
"I like the Cantinetta Antinori. It is a great Italian restaurant with live music, a great place for drinks or to spend an evening."
Finally, what does a dreamy day look like in Monaco for you?
"I enjoy a walk from Monaco up to the "Tête de Chien" and back, it is a long walk with breath taking views, which can be perfectly ended with a fresh beer at Larvotto; that is a truly dreamy day."
Stefano Torti
Group Head of Asset Management & Advisory
(source: Monaco Wealth Management (English version))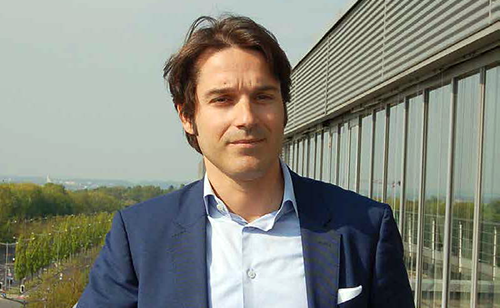 Go back