Banque Havilland continues to support the Red Cross in 2021
In June last year, at the initial peak of the COVID -19 pandemic, Banque Havilland donated 100.000 Euros to the Red Cross in Luxembourg, in an effort to help them in supporting those most affected by the consequences of pandemic.
On 28th January 2021, we were very pleased and proud to visit the social "Buttek" store located in Mersch. This is one store among the eight Red Cross social grocery stores located in Luxembourg, to which we had allocated our donation.
During our exchanges with the management of the Red Cross, we learned that during the COVID-19 period, the number of people supported by the "Buttek" stores in Luxembourg more than doubled, and that this Buttek is Mersch was helping around 250 families in the area. This is due to loss of jobs, divorce, illness, etc. An increasing number of residents are affected by poverty, which contrasts with the perception we have that Luxembourg is a privileged country.
The store, which is a regular store filled in with fresh and quality food, help vulnerable people to increase their purchasing power through access to food and hygiene products below the market price.  More than shops, these "Butteks" are places to meet, socialise and regain hope and confidence in the future.
The philosophy of the Red Cross in every of the multiple and complementary actions they take, is to make sure that the people retain self-respect, dignity and autonomy.
We are very happy to have supported an initiative that so clearly has a positive impact on peoples' lives – it resonates well with what we stand for and believe in. We left the visit convinced that Banque Havilland should continue supporting the Red Cross during 2021 and beyond.
Photo (from left to right):
Luc Scheer, Member of the Executive Committee of the Red Cross Luxembourg
Sandrine Roux, General Secretary of Banque Havilland S.A.
Venetia Lean, Board Member of Banque Havilland S.A.
Isabelle Treillard, Manager of the Mersch Buttek store
Lars Rejding, CEO of Banque Havilland S.A.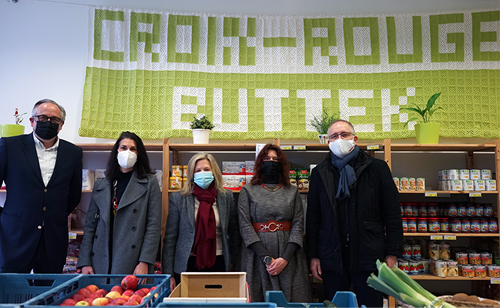 Go back