Banque Havilland sponsors a unique "Cycling Art Project"
This project is entitled "When the Fox met the Rooster and Other Stories" and conceived by the accomplished British artist, James Straffon.
London based artist, James Straffon, presents an exhibition and a street art project inspired by the "Tour de France" which comes to Luxembourg in July.
A new bespoke collection of cycling art will be displayed at the British Embassy and on Place Guillaume II in Luxembourg City. The centrepiece being a variation on the artist's previous "Legends" series featuring prominent British, Luxembourgish and other European cyclists.
The project will also include street art both in Luxembourg City and also in most of the local communes where one of the Tour stages will start.
The artist is well-versed in the world of cycling, having delivered a similar project in Harrogate in Yorkshire when the Tour started there in 2014.
These projects are organised by the British Embassy with the support of the Luxembourg Government and the City of Luxembourg.
James is a British multidisciplinary artist whose creativity covers both the design and fine art sectors. For more than 25 years, he has been developing his particular art expression based on hands-on making and knowledge-based design. The artist finds his audience within the UK and internationally, his works being held both in public and private collections.
He is also working to introduce British street art and artists on international stage in his role of co-founder and Director of the Turnpike Art Group.
For creating this exhibition James Straffon was particularly inspired by the story of the Tour itself and some most famous pieces of Luxembourgish folklore: "With the 'When the Fox met the Rooster' project, I wanted to take the viewer on a journey of discovery – exploring the myths and folklore of the greatest race in sport – the Tour de France – as seen through the eyes of an inquisitive fox. The Fox represents the culture of Luxembourg, in reference to the famous fable written by Michel Rodange, and the Rooster is the Tour itself."
This summer the artist invites his audience to discover contemporary myths and local history through his exhibition.
We would like to particularly thank The British Embassy in Luxembourg who gives us the opportunity to be the main sponsor of this project.
Upcoming exhibitions – key dates:
June – Street art in Luxembourg City on private shops and buildings
June – Street art in Luxembourg in most of the communes of the Tour de France 2017
End of June till end of August – Street art Exhibition in Place Guillaume
27th June – Vernissage at the Residence of the British Ambassador
4th July – open-afternoon for the general public, Residence of the British Ambassador, 16 Boulevard F. D. Roosevelt, L-2450 Luxembourg
( source: Delano )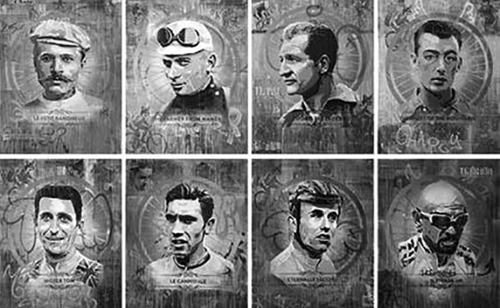 Go back